190E
---
This section is stricly only for Mercedes Benz 190E related items only. You are all free to advertise in this section. Just send me all the details and photos of your 190E, I will post it up ASAP!
HAVE FUN and GOOD LUCK
1) 1986 Mercedes Benz 190E 2.3L (Gilroy,CA)
Excellent condition, VERY low (55,000) original miles. Power everything. Sun roof, cruise, Driver side air bag, AM-FM/cassette, newer tires, gray interior/exterior,never any mechanical problems. We are the 2nd owner, but we knew the original owner and my dad was the MB dealership salesman. I will take a picture this weekend and attach to a new message next week. We are in Gilroy,CA. randmnet@unidial.com Posted on 05/04/1999 SOLD!
2) EVOLUTION II BODY KITS.(Washington)
* Photos coming soon!
Full Evolution II body kits, but there is no rear wing. Everything is new, never used or painted. New is $2500 but willing to sell for half the price. Contact Chuck at leah17@u.washington.edu Posted on 12/04/1999
3) 1984 MERCEDES BENZ 190E 2.3L AMG BODY KITS
84' Mercedes Benz 190E 2.3L Low miles for this year model car. only 94,000 original miles. Many mods include, AMG Body kit w/ duckfin spoiler, AMG 17" 5 spoke black rims, JE Omni magnum ignition system w/ 8.5mm spark plug wires, K&N air filter, Custom Cat Back system with 4.5" Brospeed tip, Clear corner lenses, AMG steering wheel, CD player and brand new Jet black paint job to boot. Won't find a better looking Benz than this. $7,000 obo. e-mail me for much more pics and info. if you already have one....tell a friend. :-) notnilC20@hotmail.com or call me at (501)521-3553 Thank you. Posted on 12/04/1999
4) 190E TRANSMISSION FOR SALE.
I need to sell a transmission. 1987 5 spd, getrag from a 87 2.3-16. Includes flywheel. price =1250.00 not negoitiable . Please feel free to contact me at SURFNVET@aol.com Thank you. Posted on 26/05/1999
5) 190E FOR SALE.
I have a 190E 2L with a Rieger Evolution 3 bodykit. Automatic. Schwartz black. 44K Genuine miles, Seibring exhaust, Alarm, Ice, c/l, PAS, e/w, sunroof. Excellent condition throughout. £11000 (London). Call Anoop on 0181 606 2518.Sharma@emigroup.com Thank you. Posted on 11/07/1999
6) 190E 5 Speed Getrag Transmission
I've got a 5 speed GETRAG authentic transmission that is a left over from my Project E36. The tranny needs a new 2nd gear. Asking $500. Can be repaired or used a core trade in for rebuilt from Mercedes Benz direct. If you are interested please email cpiad@wans.net and we can work out details."Thank you. Posted on 01/08/1999
7) 190E FOR SALE!
It is a 1987 2.3 - 16V, 5spd manual and in good condition with 107K miles (3rd owner). Will sell with original wheels and relatively new (put on at end of summer) Moda (BBS) 16" wheels. If anyone is interested and want pictures plus more details, send me mail. Everything on the car is stock except the wheels. The bad news: the car was in an accident before I bought it; the previous owner said that his wife hit a tree which fell on it during a storm. However, you can't tell that it was hit unless you realize that the trunk inside cover is missing; the paint job was superb. Also, the A/C needs a new high pressure hose and there is an intermittent problem with a sensor that needs changing. The ONLY reason for sale is that I'm interested in buying an E500! Other than that, I wouldn't even consider selling it; the E500 wasn't soooo attractive! Oh, I also upgraded the front speakers with Infinity's but still have the originals. The spare wheel is still brand new (never used)! The car has some minor knicks and dents around but nothing big. Will have to see to believe! If interested, send mail to egy@soltechinc.com or call (201) 435-5825. Serious inquiries only! Posted on 02/02/2000
8) 190E FOR SALE!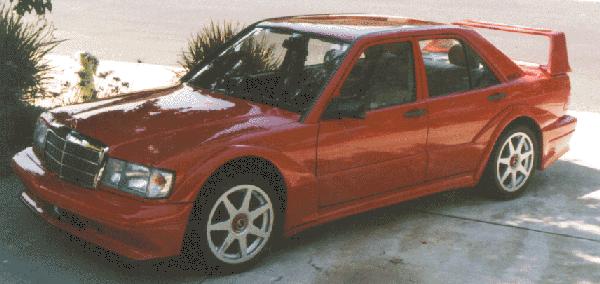 Euro 2.3 8V Engine, MSD Ignition, K &N drop in filter, Evolution II Body Kit, Wood Dash kit w/ Momo wood steering wheel and wood shifter, 17 inch TSW Revo rims wrapped in 245/40/17ZR, Eibach Pro-kit Lowering Springs w/ KYB shocks, Hard wired Bel 715i Radar Detector, European Headlights w/ Clear Blinkers, All Red Taillight Assembly, Alpine SEC-8447 Car Alarm /w keyless entry, Cream face gauges, Kenwood KDC-PS65 AM/FM Cassette deck, Polk Audio Speakers 4x6" up Front, 5 1/4"in the Rear, Fresh Tune up, Smog Check passed, New Paint 1 year ago, 101,000 miles, Very Clean, Must sell buying a new car. In the Bay Area, Pleasanton, CA. Asking $6,995 CALL (925) 462-4281 PGR (925) 306-9669 mailto:sanchezf@ix.netcom.com
Posted on 02/02/2000
9) 190E SPOILERS and RIMS
FOR SALE!! I have a Kamei front spoiler for a 1984-1993 Mercedes 190E. The spoiler was only on car for 2 weeks! I sold the car and took the spoiler off. Makes your Mercedes stand out from the rest!! If interested email me at Badboymustangz@aol.com. Also, have a 8 hole Mercedes wheels with comp ta tires, if interested let me know.
Posted on 02/02/2000
---